Trout fishing is one of the most popular kinds of fly fishing among anglers. It requires skills and patience more than sheer power. In this article, I will tell you the secret behind trout fishing: finding the best fly reel for trout.
Trout is not a very big fish. While some species live in the sea, most trout live in freshwater, where anglers usually fish for them. Smaller fish and narrow water bodies require minimal drag. Thus the best fly reels for trout aren't too muscly.
We tested and reviewed some of the best fly fishing reels for trout available in the market and from our experience, SAGE Trout Reel tops the list of best trout fly reels.
OVERALL BEST
SAGE Trout Reel
BEST FOR MONEY
Orvis Clearwater Fly Reel
BEST LIGHTWEIGHT
Lamson Liquid Fly Reel
Disclosure: The Wading Kit is a reader-supported website and takes part in the Amazon Associates Program. We may earn a small commission if you shop through links on this page. At thewadingkit.com we test products and recommend them based on unbiased research. For info see disclosure here.
After analyzing all the best features a trout fly reel should have and based on customer experience here are the 10 best trout fly reels:
Best Trout Fly Reels – Overview
Here are the detailed reviews of the ten best trout fly reels:
10 Best Fly Reels For Trout in 2023
With a classic design from the 70s and a beautiful old-school shade of bronze, I fell in love with this reel at first sight. Sage combines aesthetics and functionality in one reel like no other brand. This trout reel goes perfectly with any classic-looking bamboo or glass rod and looks breathtaking with my Sage Trout LL Rod.
The drag on this thing is a bit on the lower side with a maximum of 2 pounds. But since its aim is catching trout, this value is more than enough. The large drag knob is easily adjustable and even easier to hold due to the texture. It produces clear clicks when you go from minimum to maximum. Furthermore, the sound its drag makes when a fish tugs on it is terrific. Loud and crisp!
I found the concave shape of its frame a bit odd at first, but as soon as I used the reel, I realized its benefits. It cuts down the weight and keeps the reel solid and sturdy. The porting is done in an old-fashioned way to serve the looks while keeping the reel light. 
There's nothing I don't like about this fly reel for trout fishing, it has easy left-right hand retrieve, and comes in a nylon case. Overall one of the best fly fishing reels for trout.
Pros
Classic looking design
The color is breath-taking
The drag knob is easy to hold and adjust
The sound is loud and clear
Concave shape keeps the reel light and strong
Speaking of old-school designs, here we present another. The Orvis Battenkill reel has been a best-seller across the market since when its introduction. The classic appearance and modern use of technology combine with unbelievably low prices to give you anglers' favorite reel of all time.
This best fly reel for trout features a click-and-pawl drag system, meaning you have to take the spool out every time you adjust the drag. There is no drag adjustment knob. The drag is also not the most powerful but is certainly enough for trout. One great thing about the drag is that it is sealed. My reel has been performing smoothly for three years now, and I credit the sealed drag for keeping the dirt out.
The external skeleton is machined aluminum which gives it unmatched durability. Plus, the ergonomics on this reel are pretty good too. The handle is comfortable, you can release the spool quickly, and the reel is no trouble to seat back in place.
Now let's come to the bad part. The acoustics aren't very excellent, and the reel sounds very dull and shallow. And has a mid-range arbor. Still, it is one of the best budget fly reels for trout.
Pros
Classic looking reel with modern technology
Drag is enough for catching trout
Sealed drag is long-lasting
The machined aluminum body is very durable
Overall, an ergonomic fly reel for trout
Cons
Mid-range arbor may be a bit low on lines capacity
If you are a fan of seawater trout, you'll need a fly reel compatible with the salt. Most budget reels do not stand a chance against the sea; that is why the Echo Bravo got me excited with its minimal price tag and a promise to stand tall against corrosion. Can be best fly reel for saltwater fishing, as it is handy for catching sea trout.
The reel is cut from an aluminum alloy that may not be the lightest but is long-lasting. It fights off rusting from the salt and sand, given that you clean it properly. The large arbor is just another bonus at this price point as it gives more capacity to store lines and faster retrieval rates.
The drag system is another plus. It is sealed and strong enough to tackle enormous sea monsters. The sound it produces is beautiful. But the drag adjustment is average. Even at the lowest setting, there is still some tension in the line, making picking up loose lines a bit challenging sometimes.
Warning: this reel is very durable BUT not low-maintenance. You need to clean it properly after every use with fresh water if you want it to last long. Overall Best fly reel for the money
Pros
A budget-friendly reel
It is compatible with seawater
The aluminum framework is durable
Large arbor means fast lines retrieval and more capacity
The drag is sealed and strong enough for big fish
It produces a beautiful sound
Cons
This reel is not low-maintenance
Picking up loose lines is not easy
Redington released quite a few reels that use plastic in their making. They are tough, sure, but you cannot maltreat them when reeling the line in. I've heard complaints of handles breaking off or the frame chipping, but that is bound to happen with plastic.
So why does Redington use plastic as their base material? Because it's lightweight and economical fly reel. It makes fly fishing accessible to all kinds of anglers. You can buy a cheap reel, and when it breaks, repurchase it, and the net cost will still be lesser than many higher-end brands.
The mechanics on this reel are straightforward. It uses a disc drag system that can exert enough power to stop trout or bass. And since there is no rocket science involved in its operation, this reel is a breeze to use and best for beginners.
One fundamental flaw that I noticed was the wide gap between the spool and the frame. My lines got stuck several times before I got the hang of it.
Pros
Fundamental design, perfect for beginners
Very lightweight fly reel for trout
The price is affordable
The drag is enough for trout or bass
Cons
Plastic material may not be very long-lasting
There's a wide gap between the spool and the frame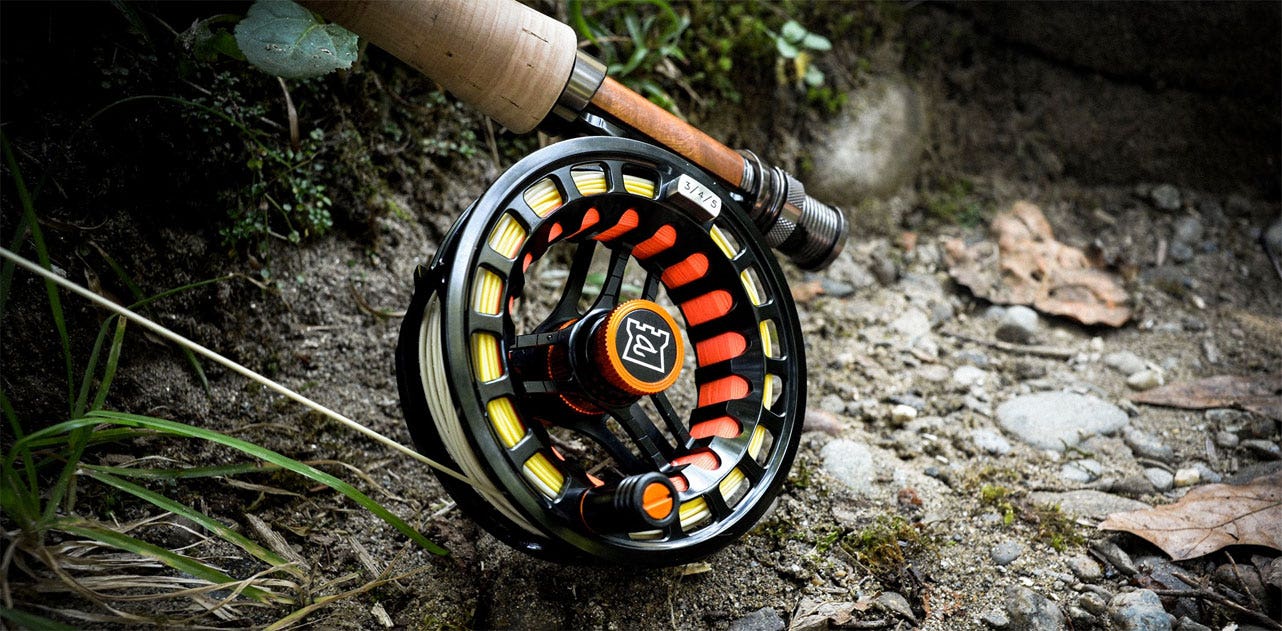 The Ultradisc UDLA is another phenomenal fly reel by Hardy Brothers. It features a disc drag system that is strong enough for Euro Nymphing. If the trouts you deal with are robust and the river you fish in is giant, you need a high-end reel. Well, the UDLA is just that!
This reel has everything good you need in a disc drag. First, the power is massive. Secondly, unlike the Hardy Ultralite MTX reel, the UDLA shows no startup inertia. The drag is as smooth as butter. And last, drag adjustment is fire! Hardy decided to ditch their signature color-coded drag adjustment knob for this reel and replaced it with an "unregulated" system. A somewhat misleading term since this newer system allows very fine increments in the drag strength. Hence, you can achieve your sweet spot quickly.
The reel is also pretty lightweight; in fact, the lightest disc drag reel Hardy has ever produced. The enclosed frame prevents thin lines from getting stuck between the frame and the spool.
The price may be the only catch since you can easily get a budget reel with a disc drag system and ample drag power. But when keeping in mind the other amenities UDLA offers, it looks like an excellent value to me.
Pros
Most lightweight reel with a disc drag system
The drag is strong enough for Euro Nymphing
No startup inertia
Micro adjustments in the drag
Enclosed frame to prevent lines entanglement
Cons
The price, but for me, it is pretty fair
The LT version of Orvis Mirage is 30% lighter in weight and 100% better for trout fishing. I had great expectations from this reel since the former model has been my favorite for quite some time now. With a slimmer framework and less bulk, LT is more suited towards freshwater fishing for medium-sized species such as trout and bass.
I liked the color even better in person than in pictures. There are a few differences in the basic structure between the two models. This one seems to be more streamlined. 
There is a significant drop in the price too. Orvis has managed to shave down the price at the cost of drag strength. It is considerably lower but still adequate for trout fishing. I didn't face any trouble regarding it while testing.
What don't I like? Nothing big, but the sound this reel produces is not something I love a lot. It is not as crisp and loud as I'd like it to be.
Pros
It is lighter in weight than the original version
The body is narrower
Price is much lower
Drag is low, but enough for trout
Cons
The sound isn't as crisp as I'd like
"Simplicity is the ultimate sophistication." (Leonardo Da Vinci)
The Galvan Brookie fly reel is a realistic representation of this quote. The design is pretty basic, yet one of the best at delivering all the right qualities. The aluminum bar stock is machined to precision to produce this ultralight and durable frame. Plus, there are many colors to choose from, so your reel can match beautifully with your rod.
The unique drag technology is a step ahead of the traditional click-and-pawl reels. It is an innovative way of exerting pressure on the spool by a click ball drag system. I could feel the direct fighting of the trout with the reel, and it felt beautiful! I don't think I will ever be able to like another drag system more.
Also, the simple Allen wrench style knob adjusts the drag setting to your liking. But as the drag works in the same way for the incoming and outgoing revolutions, you cannot rotate the reel to resume the loose line.
Pros
The design is pretty basic yet effective
This reel weighs significantly less
Beautiful range of colors to choose from
A click ball drag system lets you feel the fight with the trout
The drag adjustment knob is Allen wrench style
Cons
Drag sets on the same value for the incoming and outgoing lines.
As the name implies, the Sage Click features a click-and-pawl system for exerting a drag on the lines. It uses a polymer clicker against the drag teeth to achieve the torque necessary to stop fish from running away. This clicker makes a rhythmic clicking sound, giving perfect fly fishing vibes.
The new Sage Click is lightweight and balances beautifully on the lightest rods. The craftsmanship is excellent, and I could find no blemishes or sharp edges on any of its sides. Furthermore, the arbor is huge and good for minimizing lines memory.
How does it perform? Drag-wise it was okay, and the strength is optimal for small to medium-sized fish in narrow ponds or lakes such as trout, panfish. What sets this reel apart is the drag adjustment knob you don't usually see with click-and-pawl systems. It helps in tweaking your drag value using a dial at the back.
This reel is suitable for beginners or those who just want to catch small fish. It is not for the anglers that hunt for trophy fish such as salmon, redfish, and bass.
Pros
The simple click-and-pawl drag system
The rhythmic clicking sound is pleasant to the ears
A lightweight reel that balances well on light rods
Good drag for trout
Drag adjustment dial at the back
Cons
The drag is not sufficient for catching big fish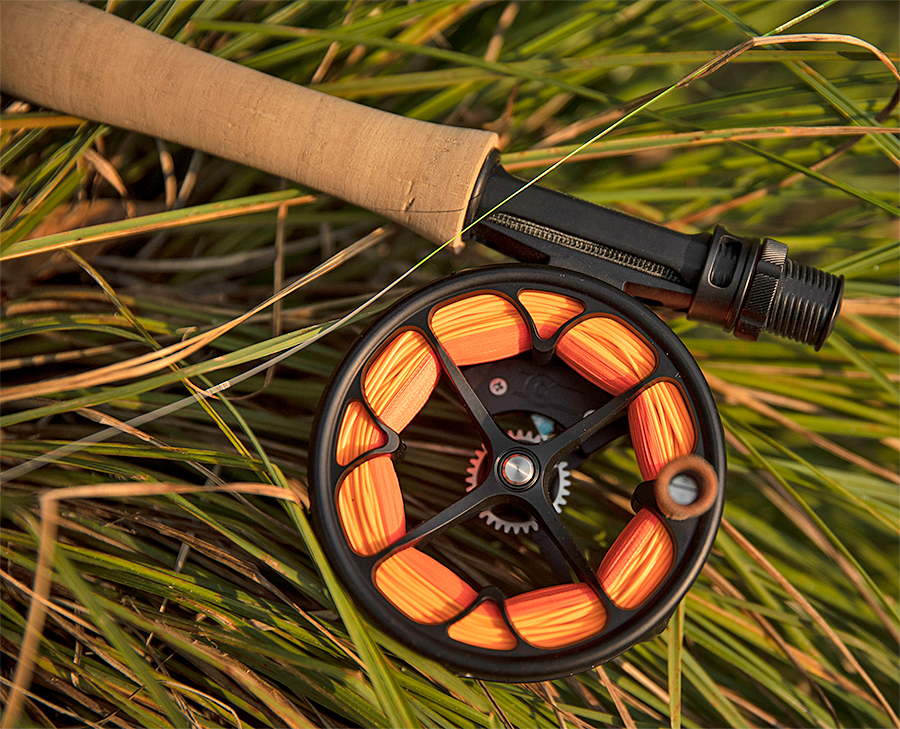 The click-and-pawl drag system may be a bit primitive, but it gives the same exhilaration a manual transmission car does. There isn't any drag adjustment except the one you exert by yourself. The new Ross Colorado reel gives the same fun-to-fish feeling with its simple yet exciting drag system.
Aesthetically, this reel has no manufacturing blemishes or sharp edges. A metallic plate at the back features the San Juan Mountains of Colorado. This trout fly fishing reel is significantly more in diameter than its ancestor reel, the Ross Colorado LT. It also weighs a bit more but is nothing inconvenient.
The clicker is metallic that comes in contact with the stainless steel teeth downwards. The unidirectional design makes this reel fit for a single-handed retrieve only. It means you can set the hand orientation of the reel only before purchasing.
Another standout feature is the robust framework in line with the spool to avoid lines getting in between them. Overall best 3 weight fly reel.
Pros
Simple click-and-pawl drag system for manual handling
Aesthetically pleasant design
The diameter of this reel is more prominent than its predecessor
Stainless steel clicker and pawl for durability
The lines cannot get in between the frame and spool
Cons
It is heavier than the Ross Colorado LT
The drag isn't too powerful
If we judge a fly reel for trout solely on its looks, the Hatch reels will always be the winner. Their stylish design is a treat to look at! The Gen 2 reels are the same. They may be a bit heavy, but their appearance will impress you for sure.
When compared to Gen 1, Gen 2 is better at being waterproof. The sealed drag protects its components from the external environment efficiently. But what's not so good about this model is the drag strength. It is okay for trout or other smaller species, but it is towards the lower side on my scale.
The retrieval rates are moderate too, and the line's capacity is enough to hold 8 wt lines. The handle and drag knob are easy to find and hold—nothing out of the ordinary. But what I love the most about this reel is how excellent the acoustics are. The clicking sound is refined and crisp.
Pros
This reel is very good looking
More waterproof than Gen 1
The retrieval rate is moderate
The capacity to hold lines is enough
This fly reel for trout sounds amazing
Cons
It is a bit heavier
The drag is pretty okay
Buying Guide For Best Fly Reels For Trout
To help you buy the best fly fishing reel for trout, I compile a list of all that you do or do not need.
What You Need:
Here's what you'll need in your best fly reels for trout:
Up to 4lbs of Drag is required for catching trout in lakes or rivers. It prevents light tippets from breaking off.
A mid-sized Arbor is enough in most trout fly fishing reels.
Fly Line #5 and #6 is the right choice for trout fly reel that is why you should look for best 5 wt fly reels, as they are best for trout fishing.
What You Don't Need:
The trout isn't too big and doesn't require a very sophisticated kind of fly reel. To keep your fly reel for trout under budget, you can compromise on the following:
Disc Drag System is good if you can get it, but a traditional click-and-pawl system will suffice too. or maybe you can try best automatic fly reels.
Immense Drag Strength is something you can live without.
Huge Capacity for lines is also not necessary. Since most trout fishing happens in small lakes or ponds, you don't need a lot of lines.
Read more about parts of a fly reel
FAQs
Q. Which trout fly fishing reel should I buy for sea trout?

The Echo Bravo Fly Reel is the best trout reel for seawater. It is strong, has a good capacity for lines, and is corrosion-resistant.
Conclusion
Rainbow, cutthroat, or brown trout fishing can be adventurous and very rewarding for anglers. Whether you plan to have it grilled for dinner or just let it go after having your fun, you need the best fly reel for trout to catch them.
After close inspections of the ten best fly reels for trout, I think the SAGE Trout Reel deserves to be in the first spot. Due to being specific for trout, this best trout fly reel has all the necessary properties to help you catch plenty. Plus, the attractive appearance is a bonus!
So that's all I have for the best fly reels for trout. But before I go, one last word of fishing wisdom: fish are living creatures, so please show them some kindness while you catch them for food or sport. Cheers! 
The Wading Kit is reader-supported. When you buy through links on our site, we may earn an affiliate commission, without any extra cost to you. Learn more.